---
Elizabeth Sitzler
Elizabeth's first exposures to meditation, yoga, and Eastern spirituality came at an early age. Elizabeth attended a Quaker school from ages 4-14. During this time she regularly attended meeting for worship, which she believes gave her the foundation for a seated meditation practice. Later, Elizabeth attended a Catholic high school, and was introduced to teachers who nourished her interest in spirituality and Theology. In her senior year Elizabeth was selected as one of 12 students to participate in a year long course culminating in a service trip to Pine Ridge Indian reservation in South Dakota. Throughout the course of the year she was introduced to Hinduism and Buddhism for the first time, read the Bhagavad Gita, and attended her first formal guided meditation. These experiences would make a lasting impression on her. Elizabeth's study of Eastern Spirituality continued to grow as she attended St. Joseph's University, where she still visits as a guest speaker in Asian Spiritualities courses. Elizabeth is eternally grateful for her early teachers and is continually inspired by them in her study of Yoga.
While studying history and political science, applying to law school, and competing as a Division 1 tennis player, her father persuaded her to try yoga for the first time; thinking it might help her manage stress. The dynamism of the practice instantly drew her in and she quickly fell in love with the beauty of linking movement, breath, and mindfulness. Soon enough, she was practicing yoga every day; experiencing positive transformations in mind, body, and spirit.
As she delved deeper in the practice she discovered Sri K Pattabhi Jois' Ashtanga Yoga, the Ashtanga Yoga School of Philadelphia, and her teacher: David Garrigues. The integrity and structure of the Ashtanga Yoga system was a perfect and natural fit for her. Elizabeth began apprenticing with David Garrigues in 2012 and has been blessed with the opportunity to assist him all over the United States and in India. Elizabeth is always a student, striving to learn more about her self, the practice, and how she can guide others through their own journey.
---
Joanna Darlington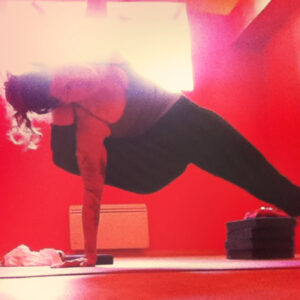 Joanna started with yoga in 2004. Though she has studied various styles, she has maintained a primary focus in Ashtanga yoga and the lineage of David Garrigues. She has continued to learn and benefit from the depths of her practice and study as it has been presented to her through the guidance of her teacher.
As senior apprentice to David, she often travels with and assists him when sharing his knowledge both in the US and India. Her love of ashtanga yoga, and her passion for teaching it, continues to blossom through dedicated study and all that has come from it.
Read Joanna's blog  Red Dot Little Duck  or her website and stay updated on her travels of being a student and a teacher.
You can contact Joanna at darlingtonj@gmail.com or follow her on instagram and Facebook.
---
Sarah Durney Hatcher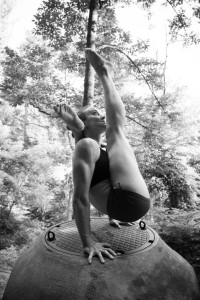 Sarah Durney Hatcher has been practicing Ashtanga yoga since 2000. Sarah has been a devoted student of David's since 2005 though she also has studied with Shri K Pattabhi Jois, R Sharath, Dena Kingsberg and Christine Hoar. She studies Sanskrit with Nitya Mohan of Svastha Ayurveda.
Sarah was the founder and Director of Ashtanga Yoga Boise from 2008-2011.
From 2011-2012 Sarah moved to Philadelphia to study with David, assist him with the opening of AYS, and teach while he was traveling. From 2012-2013 and now, currently, Sarah is the Director of the morning Mysore program at Meadowlark Yoga, Edinburgh, Scotland. She is a Certified Senior Yoga Teacher registered in the Yoga Alliance UK. Sarah has also taught in Aberdeen at Love Yoga where she was the Director of the morning Mysore program from 2013-2014.
Besides her daily asana and yoga sutra chanting practice, the most exciting new series has been becoming a new mother; the birth of her son Dashiel was her most intimate and focused yogic practice yet. Becoming a mother has made her appreciate the practice of ashtanga yoga even more: she is grateful for Guruji's teachings for constantly making her investigate her higher self; it is through daily practice that Sarah learns how to be her best and care for others in most sincere way.
When Sarah isn't on her mat chanting or practicing, she is playing with her son and her husband Tim, usually skiing or climbing in the hills; cooking, dancing tango, or playing on her harmonium.
Follow Sarah:
@ashtangaseradee (Instagram, Twitter)
Sarah Durney Hatcher (Facebook)
sarahdhatcher@gmail.com (Email)
www.ashtangayoginionthove.blogspot.co.uk (Blog)