John grew up in a Methodist church with a variety of spiritual influences. He first started practicing yoga while living in Oregon at the age of 23.
He moved from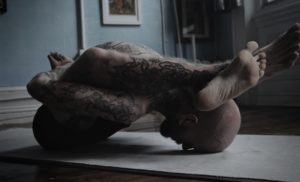 Oregon to Arizona and while on a vacation to San Diego, a friend took him to Jois yoga in Encinitas. He fell in love with the practice, quit his job and moved to San Diego to study at Jois with Andrew Hilliam and David Milotios.  A body piercer by trade, his career has allowed him to travel coast to coast, leading to his eventual meeting with David Garrigues at AYSP.
John believes in the Ashtanga Yoga system as a powerful tool for orienting body and mind and for separating spirit from matter. John teaches Saturday mornings and Monday evenings at AYSP.