Elizabeth Crozier
A lifelong student of movement-arts and self exploration, Elizabeth has a fierce love and enthusiasm for the practice. She met certified ashtanga teacher, David Garrigues, in 2011 and practiced daily in his Mysore room in Philadelphia Pennsylvania.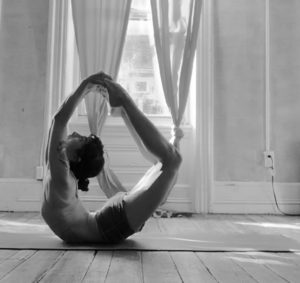 David took her on as an apprentice and with that honor, she began to further establish and immerse herself in the lineage given by the late Sri K Pattabhi Jois. She later took on a teaching position at the school in Philadelphia where she began.
Elizabeth currently runs the Mysore program of AYS Philadelphia as she continues her study with David as a senior apprentice, assisting him in various workshops and classes each year. She endeavors to share her love and knowledge of the practice with faith and devotion in the most clear, skillful, and purposeful ways possible. Her teaching is strongly enriched by the belief that anyone can take practice, as has been the way of her teacher and her teacher's teacher.
You can stay connected with Elizabeth and learn more about her teaching schedule and reflections on the Ashtanga practice through her website elizabethcrozier.wordpress.com.